WFMW – Blogger HMTL Gadget Help
If you are on Blogger, you may have noticed a recent annoying change with your gadgets.
Are you getting this error when you try and post an HTML/Java Script Gadget with out a title?
As of last week, Blogger made an update to the
HTML/Javascript Gadget
making the
Title
field required – meaning you can not post an HTML Gadget with out a title.
Thanks to
twitter
, when I called out my complaint,
Krystyn
of
Krizzy Designs
was quick to offer a suggestion….and it WORKED!!
just place this code


in the title box then click "Save"
This code will allow you to post your Gadget without a title.
You will have to do it every time you update the gadget –
Blogger says –
"based upon user feedback, we will soon be removing that requirement."
But until they fix it, you can work around it this way!!
I'm linking this up at We Are That Family's Works For Me Wednesday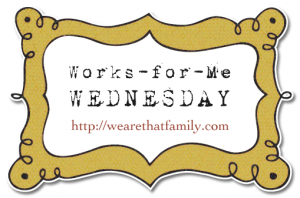 ********************
Now thru midnight EST on Friday July 2, 2010 you can


use the discount code FRIEND at checkout, you will get

10% off any subscription

,
or coupon code LOVECM for 20% off a lifetime subscription.

Don't miss a post subscribe via
Rss Reader
or
by E-Mail