The Halls are Decked!
Please, come in from the cold………
The Nester says, "I cannot wait to see your creative, beautiful, imperfect homes."
Did you hear that last part? IMPERFECT HOMES!! yep!
If you surf enough blogs, it's easy to think everyone has a perfect home, perfectly decorated, perfectly clean and they have it all PERFECTLY together!! The truth is, most of us have imperfect homes.
My home is NOT a perfectly decorated home at Christmas, it's not full of several beautiful wreaths, wonderfully arranged displays, we only have one Christmas tree, and a few areas to display.
My tastes are changing, so I have a mix of Christmas decorating PAST and Christmas decorating PRESENT, while in envision Christmas decorating FUTURE! Chestnuts are NOT roasting on the open fire (I wish we had a fireplace!) and Jack frost is NOT nipping at my nose (since we can't seem to get any snow here in St. Louis)
But it's OUR home! Our beautifully lived in, loved in HOME!
So come along, grab a cup of hot cocoa, you don't even need to bother getting dressed! ……note to self, learn how to take better pictures indoor with low light! Christmas decor is hard to photograph! If anyone has any tips, I'd love to hear them! (I know getting a prime lens will make a difference – do you hear that Santa?)
First up, is our tree!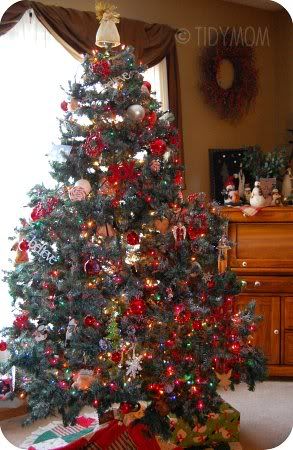 These things look SO much better in person, but you get the idea….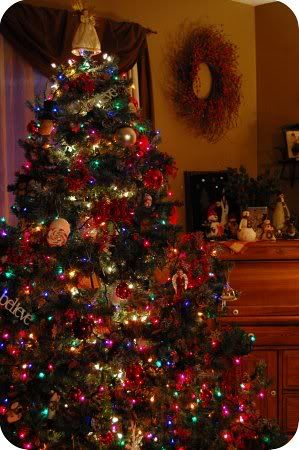 We went "fake" several years ago. I still miss the fresh tree sometimes, but I sure don't miss the mess.
Holly Bloggy Christmas Bash
Day #2
Tuesday Dec. 15
Christmas Trees
hosted by A Baby Changes Everything
***************************************
This display includes my Dollar Tree jars and candy I made in THIS POST.
I really like how they look in this spot, but like the tree, the pictures don't do it justice.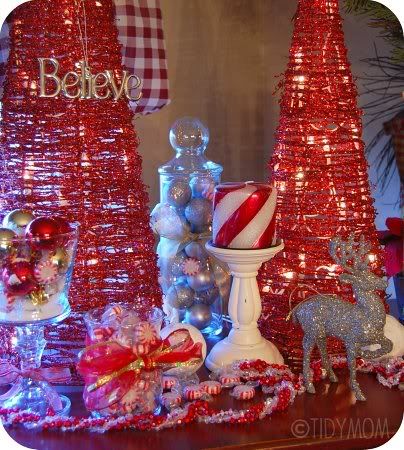 This wreath is another one of my new (inexpensive) additions this year!
Check back on Wed when I post how I made this wreath!
(it's different than the one I made last year)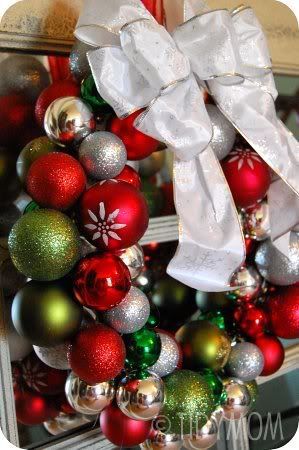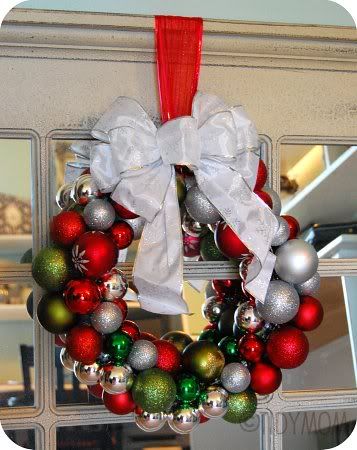 I made an ornament ball wreath last year, and I even posted "how-to" instruction (click here to see that wreath)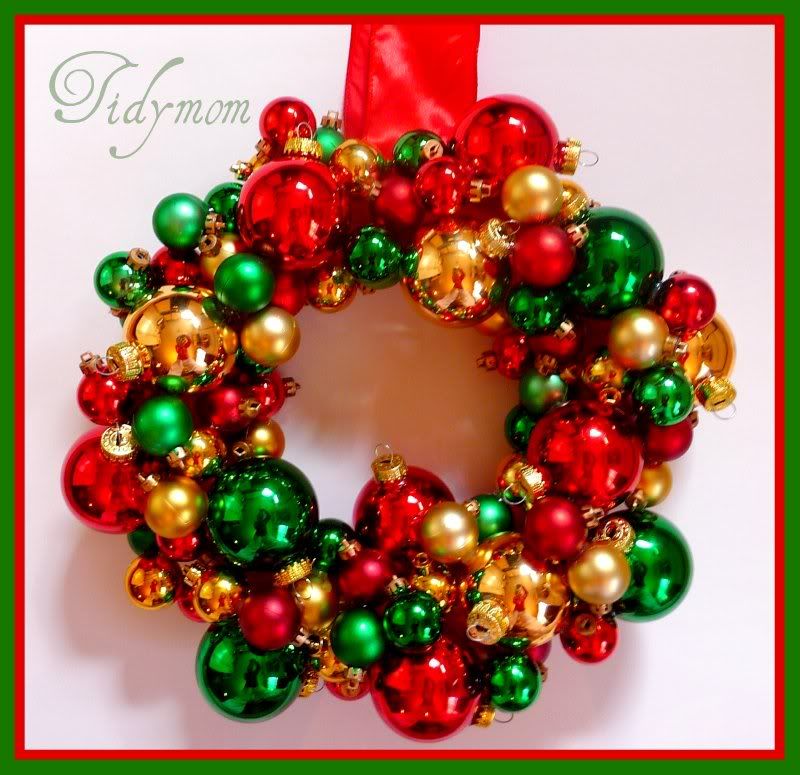 Our Santa and reindeer shelf,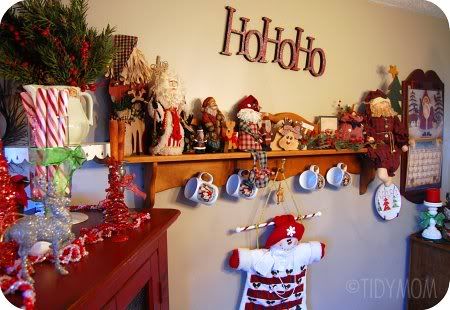 Our Snowman collection/display.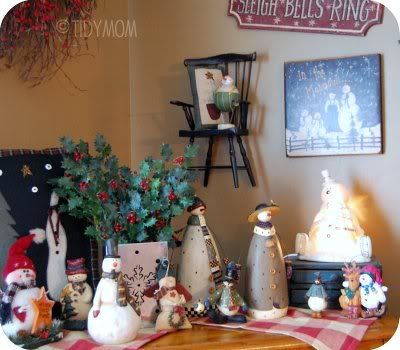 A cute little tree by our front door that I tuck into a crock.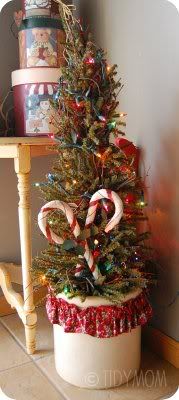 So that's it for the Christmas decor in our house.
Hundreds of bloggers will be opening up their doors to showcase their
Christmas decor.
I've linked to the following: The Nester!, It's So Very Cheri, Home for the Holidays, Hooked On Holiday House Tours, Thrifty Decor Chick, Funky Junk Interiors, The Inspired Room, Tip Junkie, Home for the Holidays,
************************************************
Here's what's in store for the rest of the week at the
Holly Bloggy Christmas Bash
Monday Dec. 14
Homemade Gifts
hosted by Tater Tots and Jello
Tuesday Dec. 15
Christmas Trees
hosted by A Baby Changes Everything
Wednesday Dec. 16
Christmas Crafts
hosted by Blue Eyed Blessings
Thursday Dec. 17
Christmas Recipes
hosted by Simply Sweet Home
Friday Dec. 18
Christmas Memories & Traditions
hosted by ME! TidyMom