No Guilt Strawberry Jello Pie
This fresh strawberry jello pie recipe can be enjoyed guilt free since it has no crust and it's made with sugar free Jell-O and Pudding.
I love strawberries!
So, today, I'm sharing another one of my favorite "guilt free" desserts!
If you follow Weight Watchers points system, this whole pie is only 6 points!
This recipe is easy. Easy, easy, easy. But, it also means that the strawberries get to take center stage – where they belong.
Ingredients
1 small package sugar-free Cook and Serve Vanilla Pudding
2 cups water
1 small package sugar-free Strawberry Jell-O
4 cups sliced strawberries
Instructions
In a medium saucepan, stir together water and pudding mix. Heat to a boil.
Remove from heat and immediately ad the Jell-O.
Stir until dissolved. Set the pan aside and let the mixture cool to room temperature.
Place sliced strawberries in the bottom of a deep dish pie plate.
Pour cooled pudding mixture over the strawberries.
Refrigerate until chilled. Let it set well before slicing.
Notes
*I top with a little fat free Cool Whip.
https://tidymom.net/2009/no-guilt-strawberry-pie/
Copyright© 2009-2013 TidyMom.Net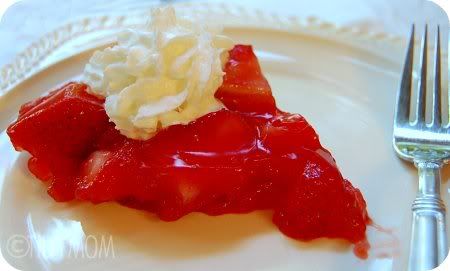 Pure freshness, goodness, strawberry-ness. And, nothing else in this pie is trying to steal the show.
More Strawberry recipes you may enjoy:


Strawberry Orange Spinach Salad

Strawberry & Chocolate Dessert Nachos