Garlic Chicken Puffs & Christmas Party!
W
e had a GREAT time at a family Christmas party on Sunday.
I have to share my aunts home with you all!
She decorates for Christmas in Turquoise and Red,
and their finished basement is St. Louis Cardinals themed.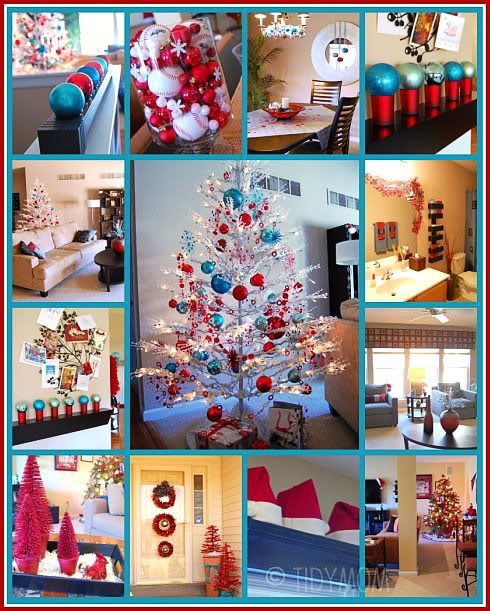 Don't you just love all the little touches, the ornament balls on top the votive candle holders? The Santa hats lined up on a shelf, the baseballs mixed with ornaments! That white tree changes colors, well the lights change colors, she also has these adorable red feather wreaths that I didn't get a good picture of to show you, but they are adorable with a turquoise bow and turquoise ornament hanging in the middle!
We snacked, we drank, we played a White Elephant Ornament Exchange, this year all 17 people played!
and we laughed…..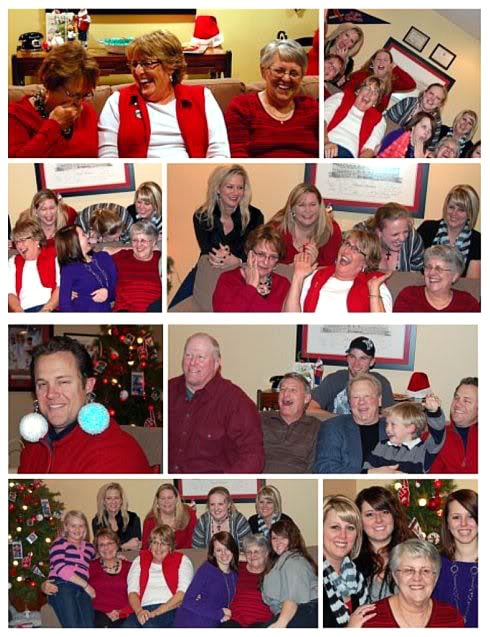 Everyone brought an appetizer.
I brought something I had at my nieces house a few months ago, so I called her for the recipe.
Garlic Chicken Puffs!
These are a rich creamy garlic chicken mixture inside a croissant and baked to form yummy puffs. A big crowd pleaser and great for gatherings!
They are a little messy to make, and I think I filled mine a little too much, so some of the chicken mixture oozed out, but still tasted DELICIOUS!
Ingredients
4 ounces cream cheese
1 tsp garlic powder
1/2 cup cooked shredded chicken*
2 (8 count) cans refrigerator crescent rolls
Instructions
Mix cream cheese, garlic and chicken until well blended.
Unroll crescent rolls and cut each triangle into 2 triangles (when you unroll the crescent rolls, 2 triangles are attached making a big square, I just cut from there following the perforation for one cut and made another cut from the other corners = giving you 4 little triangles)
Place 1 tsp of chicken mixture on the center of each triangle and fold the corners in over the creamy mixture.
Place on cookie sheet, lined with aluminum foil and sprayed with no stick spray. Bake at 375 for 11-14 mins.
Notes
*For cooked chicken, I buy a big bags of frozen chicken tenderloins, I toss 6 of them on a cookie sheet and baked for about 25 mins.
https://tidymom.net/2009/garlic-chicken-puffs-christmas-party/
Copyright© 2009-2013 TidyMom.Net
"Like this recipe? Add it to your personal recipe box to make later or add the ingredients to your online shopping list to make it this week. Just click the Save Recipe button to get started."