Homemade CHRISTMAS CD and Fudge ~Gifts!
These are some great
homemade gift ideas
for those of us who are not as crafty!
Last year I burned some CD's of our favorite Christmas songs, and designed a case cover.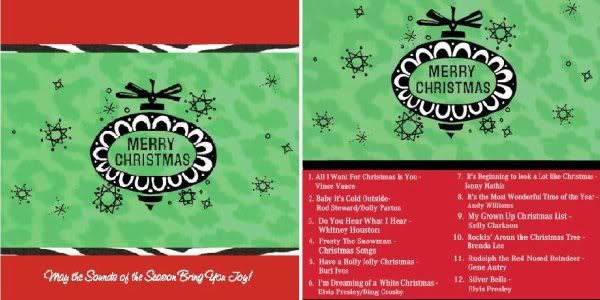 I thought I would do it again this year, and Amy at Living Locurto designed a great cover that I'm going to use this year, and she has it on her blog to download and print for FREE!! Thanks Amy!! Click here to get her design and download it for yourself!
I burned my CD, made my case cover and packaged them all cute! I didn't have a clear cello bag large enough to fit the cd, so I just used the roll of Christmas cello I have. I placed some green crinkle paper on the cello tied it up around the cd with some pretty red and green ribbon and tied on a cute ornament!
***************************************************
This EASY yummy fudge has become a favorite to make and give in our house for the last several years! We give them to teachers, neighbors, friends and more! People who have received them in the past are now asking for them! LOL
It's the ULTIMATE Gift! – 5 Minute Fudge Wreaths
Placed on a
cute

holiday plate
, wrapped in cellophane and bedecked with
ribbon
and an
ornament
it's an indulgent gift that looks as extravagant as it tastes.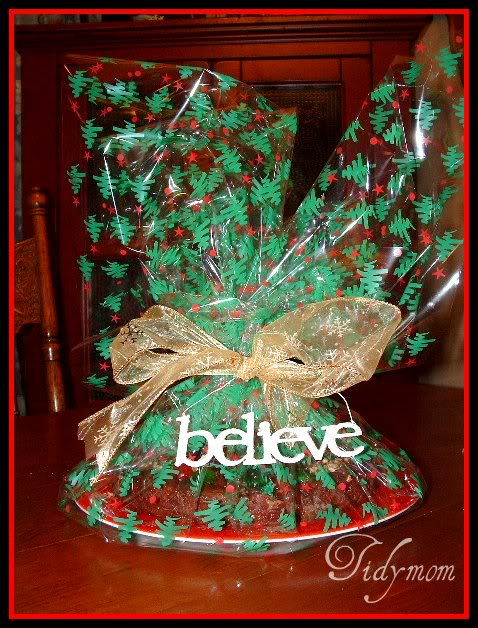 This is a great recipe from Rachael Ray and we love to play with different variations of it. We mix up the different flavored chips and do peanut butter or mint (instead of butterscotch), I've used Jack Daniels in place of the vanilla. The possibilities are endless. **the butterscotch doesn't really taste like butterscotch, mixed with the milk chocolate just makes it a rich chocolate. I usually leave out the nuts when giving as a gift unless I know they like nuts.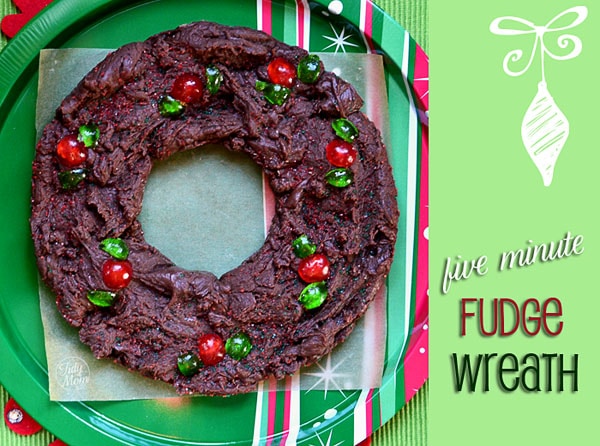 A super easy delicious fudge that has become a holiday tradition!
Ingredients
1- 12 ounce bag semisweet chocolate morsels (12 ounces)
9 ounces peanut butter morsels (3/4 of a 12 ounce bag)
1- 14 ounce can sweetened condensed milk *SAVE the empty can!
1 teaspoon vanilla extract
8 ounces chopped nuts of choice (optional)
Candied red and green cherries, for garnish (optional)
Instructions
Place a heavy pot on the stove and pre-heat it over low heat. Add chocolate and peanut butter morsels and milk stir until morsels are melted and milk is combined. *Save the empty condensed milk can.
Stir in the vanilla and remove the fudge from heat. If adding nuts stir in immediately.
Line round cake pan with plastic wrap and lightly coat with cooking spray. Cover the empty condensed milk can with plastic wrap and place in center of cake pan.
Spoon fudge into pan around can, making sure to center the can if it drifts.
The fudge will set up almost immediately. Garnish can only be added in the first minute or two that the fudge is in the pan, so work quickly. Decorate your wreath with "holly" made from cut candied red and green cherries. Sometimes I sprinkle with red and/or green sprinkles as well.
Chill covered in the refrigerator. Remove the can from the center, remove fudge from pan, discard plastic wrap and place on decorative plate, and cover.
Notes
Variations: Use mint or butterscotch morsels in place of peanut butter for other flavors.
Copyright © 2009-2011 TidyMom.Net.
https://tidymom.net/2008/homemade-christmas-cd-and-fudge-gifts/
Copyright© 2009-2013 TidyMom.Net
Slice the fudge very thin when ready to serve – a little goes a long way!
Check out Works for Me Wednesday over at Rocks in My Dryer for even more tips and tricks. and Holly Bloggy Christmas