100th Post GIVEAWAY Week!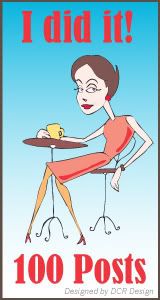 Wow I can't believe it!
This is post #99.
In just 7 months I have made 100 posts!
and to make it EXTRA special, it's happening the week of
my BIRTHDAY!!
You celebrate Birthday WEEKS don't you?
You know, the week of your birthday you start with
"be nice to me, it's my birthday this week"
or
"I can get/do that, it's my birthday this week"
Makes it more fun if you celebrate all week long!
This year my birthday lands on a Friday (March 6)
My celebrating will start tomorrow, – I'm going for
a Birthday Massage with Hollywood!
and what better way to celebrate my
100th Post here in Blogville with
a few GREAT Giveaways this week!
I'll have a Giveaway each day this week

you'll be able to enter each day

So be sure to check in tomorrow,
you'll be FLOORED by my first giveaway!