Can you believe the holiday season is just a few short months away?! Thanksgiving is just 77 days away! What the what?!!!!
Many of us do some amount of baking for the holidays, whether it's just a batch of your favorite cookies, or baking for a holiday party or gift giving.  Chances are your recipes are going to call for vanilla. Vanilla extract and vanilla beans are such essential items in a holiday baking spice cabinet.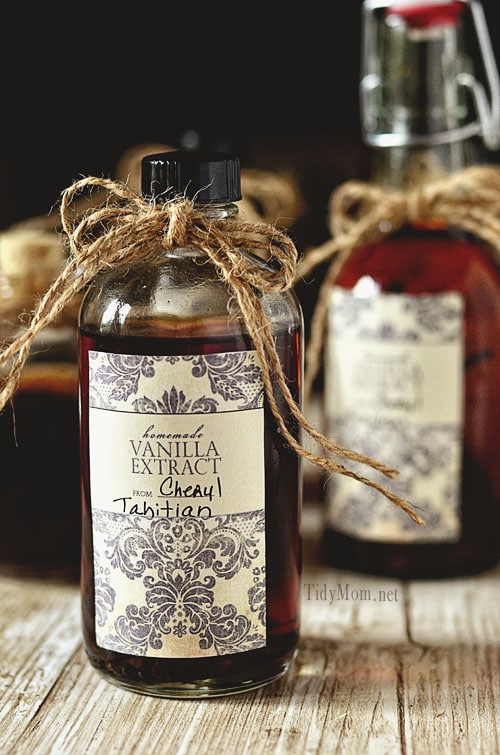 Last year I shared how easy and much more economical it is to make your own vanilla. It's so simple to make but needs to sit at least 6-8 weeks before you can use it, so get started now to have plenty of vanilla extract on hand for your holiday baking.  Download and Print the free homemade vanilla labels Kelly made and you'll have a fantastic gift ready to pass out to friends and family in December. 
You'll notice vanilla beans can be pretty pricy at the grocery store, so if you plan to make more than one bottle of extract I highly suggest purchasing your beans online, from places such as at Beanilla.com.  right now they have 25 Madagascar Vanilla Beans for $25 + FREE shipping! that's a fantastic price!
Now is the time to make vanilla for the holidays
WIN IT!
My friends at Beanilla would like to help two lucky TidyMom readers get their vanilla going this year with an awesome $150 prize pack of vanilla making supplies!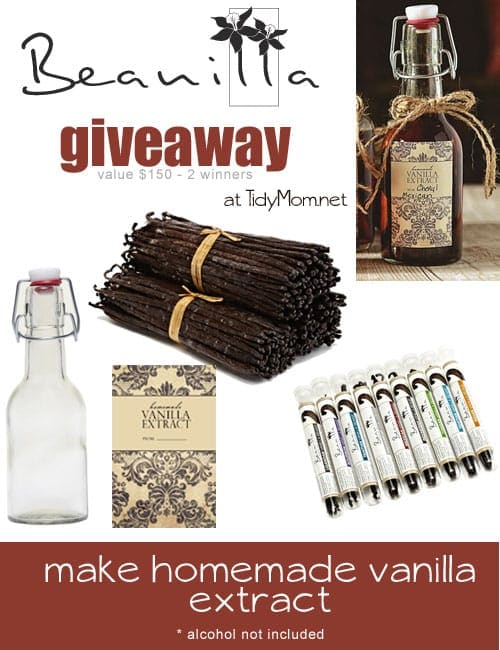 Each winner will receive:
1 Package (vacuum sealed) of 5 Madagascar Vanilla Beans
1 Package (vacuum sealed) of 5 Tonga Vanilla Beans
1 Package (vacuum sealed) of 5 Indonesian Vanilla Beans
1 Package (vacuum sealed) of 5 Mexican Vanilla Beans
1 Package (vacuum sealed) of 5 Ugandan Vanilla Beans
1 Package (vacuum sealed) of 5 Indian Vanilla Beans
1 Package (vacuum sealed) of 3 Tahitian Vanilla Beans (Tahiti)
7 Clear Glass Bottles, 8.5 oz w/ Swingtop
1 Vanilla Bean Sampler (7 glass vials containing 3 beans of each variety)
How to enter: 
leave a comment on this post sharing your favorite recipe with vanilla!
Then simply complete the steps in the giveaway widget below.  Personal information will not be shared or used for any kind of mailing list, it's simply used by me to select and contact the winner.
If you don't see the widget, be patient because it might take a minute to load (especially with Internet Explorer 9).  Or you can click here to for the entry form  if you have any questions, you can contact me via email

Disclaimer:  this post is a collaboration with Beanilla. All opinions, views and love of vanilla are all my own.