Apple Pomegranate Spritzers for a Virtual Baby Shower
As much as I'm looking forward to fall and it's cool crisp weather, I'm still grasping at summer just a bit.  Apple Pomegranate Spritzers were the perfect way to toast the end of summer and a new baby, for my friend Jen!
Almost 25 years ago we welcomed our first baby into our family, a beautiful little girl.  We wanted a girl first and she was perfect.  So perfect in fact, we waited 8-1/2 years before we decided to have another, lol. It all seems SO long ago now, but I remember singing camp songs during bath time, watching every Disney Movie made a dozen times…… in one day, and how my heart melted every time I heard "love you mommy" with a big hug.
Today we are celebrating as our sweet friend Jen from My Kitchen Addiction, and her husband are about to welcome their first bundle of joy, a baby girl to their lives.  I toast the two of you with this non-alcoholic drink and wish you the very best in your journey thru parenthood. Your lives will never be the same again, you will wonder how you ever breathed with out this little one in your arms!
I brought Apple Pomegranate Spritzers to the party table today. Aren't they pretty?!
This drink will not disappointed.  It's fizzy, fruity and full of antioxidants (hello pomegranate!) and non-alcoholic.   You could swap out the lemon-lime soda for white wine if you'd prefer a boozy version, say for a bridle shower, or after a day of answering "Why" twenty times.
Simple, refreshing and a perfect good bye to summer and hello to the upcoming holidays!
Several bloggers have joined together for a surprise virtual baby shower for Jen. Celebrate with us! Check out the list of participants below the recipe! Take a few minutes to click around and visit the great blogs participating!
Apple Pomegranate Spritzers
This liquor-less libation is simple, refreshing and a perfect good bye to summer and hello to the upcoming holidays!
Ingredients
6 cups sparkling water, chilled
3 cups apple juice, chilled
3 cups pomegranate juice, chilled
3 cups lemon-lime flavored soda, chilled
apple and orange slices to garnish
Instructions
In a large pitcher, combine water, juices and soda, stir to combine. Garnish with fruit slices.
Serve immediately over ice.
http://tidymom.net/2012/apple-pomegranate-spritzers/
Copyright© 2009-2013 TidyMom.Net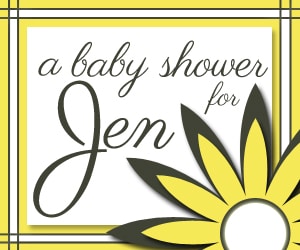 A big thanks to Amber and Tracy for getting us all together to celebrate Jen's much awaited little addition!
Bluebonnets & Brownies | Raspberry Lemon Fruit Dip
Sugarcrafter | Sweet Potato Cake with Honey Buttercream
My Baking Addiction | Mini Pumpkin Pies
Simple Bites | English Eccles Cakes
Stetted | Roasted Red Pepper and Caramelized Onion Dip
Food for my Family | Homemade Pear Italian Sodas with Cardamom Cream
eat. live. travel. write. | Goat Cheese and Tomato Tartlettes
Gimme Some Oven | Creamy Caramel Apple Dippers
Dessert For Two | Caramel Apple Cookie Cups
Bake at 350 | Soft Sugar Cookies for a Baby Shower
A Thought For Food | Fingerling Potato Salad
TidyMom | Apple Pomegranate Spritzers
Healthy Green Kitchen | Guacamole with Pistachios
Tracey's Culinary Adventures | Caramelized Onion, Gruyere and Bacon Spread
What Megan's Making | Apple Spice Muffins
Cookin' Canuck | Gorgonzola Cheese Cups with Pear & Hazelnut Salad
Bellalimento | Frozen Berry Shortcake
Shugary Sweets | Caramel Apple Truffles
GoodLife Eats | Coconut Lemon Banana Bread