DIY/Crafts
3 Homemade Christmas Ornaments {tutorial}
Using a few embellishments can turn plain-Jane ornaments into seasonal standouts in just minutes.  Perfect for your tree or gifting.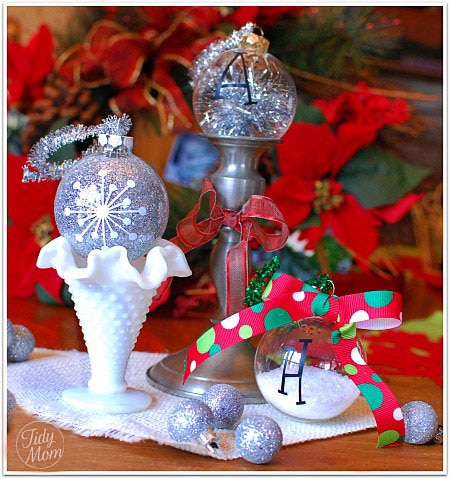 I just love homemade Christmas ornaments!  Not only do they bring extra warmth to any Christmas tree, but they made great gifts as well!  I have 3 tutorials for some super easy ornaments I made last year using clear glass ball ornaments.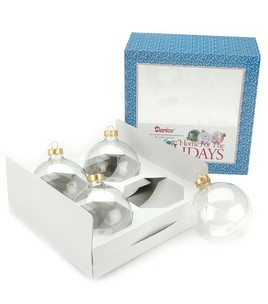 You can pick up glass ball ornaments at any craft store like Michaels or Hobby Lobby, and I've even seen them at WalMart and Target for well under $5  (use a coupon and get them even cheaper) – making each one $1 or less
Homemade Christmas Ornaments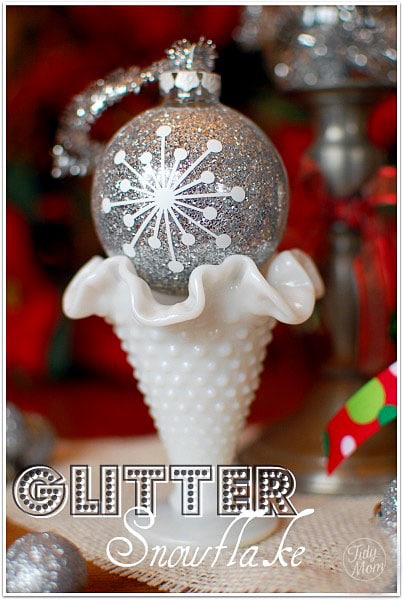 How to make a glitter snowflake ornament
First up, and probably my favorite……….the Glitter Snowflake!
Supplies: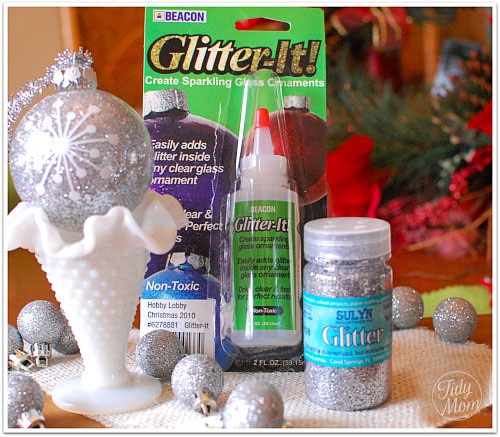 1 clear glass ball ornament
Beacon Glitter it! (found at Hobby Lobby – used my 40% off coupon)
Silver Glitter
vinyl snowflake
Instructions:
Per instructions on the bottle of GLITTER IT -remove hanger from ornament and add one tablespoon of white vinegar to one cup of warm water and pour a small amount into the ornament. Swirl around to thoroughly clean glass. Empty ornament and rinse well with warm water. Let dry completely. (do this step a day a head or use a hair dryer to speed up drying like I did lol)
Pour a small amount of GLITTER IT into ornament. Swirl around to coat the entire inner surface. Add more if needed.
Immediately add about 1 teaspoon of fine glitter to inside of ornament . (I poured some glitter onto a piece of paper with a fold and use it to guide/pour the glitter into the ornament) then rotate and shake ornament until the inside of the ornament is completely covered with glitter. If necessary, add additional GLITTER-IT and glitter until all areas are covered.
Turn ornament upside down and shake away any excess glitter.
Add vinyl snowflake to outside of ornament. (I cut mine with my Silhouette SD from the free library)
Replace hanger, (*note – I spray painted the hanger with white spray paint to give some contrast.)
These were SOOO incredibly easy, my girls and I plan to make many more! I love that you get the look of GLITTER with out the GLITTER MESS!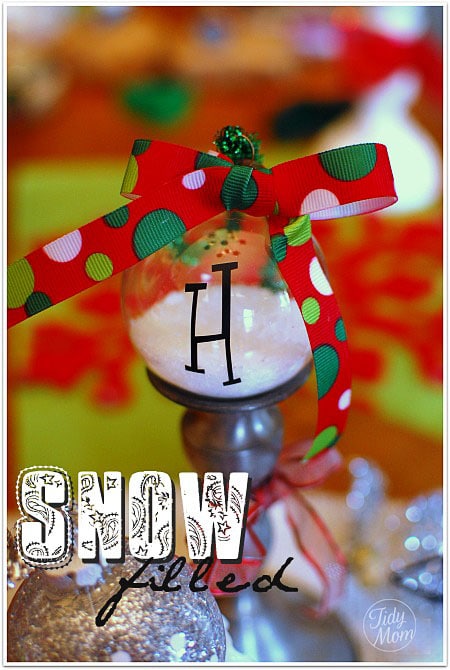 We made Snow Filled ornaments last year and enjoyed them so much, they were first on our list for this year! This is a GREAT last minute gift idea, because you can seriously make one in under 5 mins.
How to make a Personalized Snow Filled Ornament
Supplies:
1 clear glass ball ornament
Epsom salt (you can buy this at any drug store, super store or even the dollar store)
Ribbon
Vinyl initial
Instructions:
Removed hanger from ornament
Fill ornament 1/2 full with snow "Epsom salt"
replace hanger
add vinyl letter (you can buy vinyl letter at the craft supply store, or cut them with your craft cutter)
add ribbon bow around hanger.
They even look nice with out the vinyl……….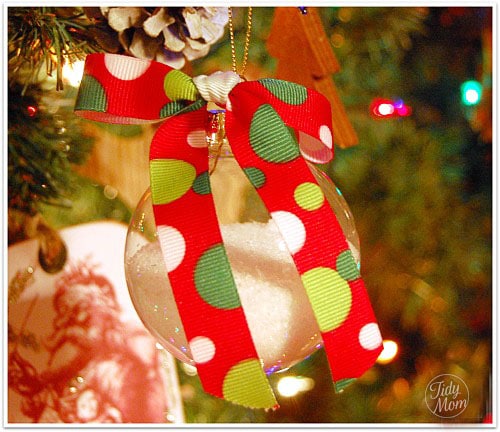 What a great gift for anyone, but especially for those who don't have snow!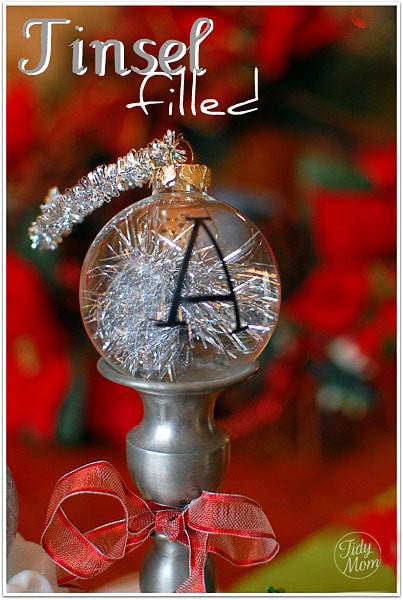 Last up……….but certainly not least………a little more bling! Tinsel Filled
How to make a Tinsel Filled Ornament
Supplies: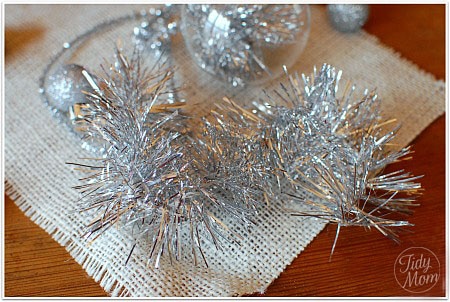 1 glass ball ornament
tinsel garland
vinyl letter
Instructions:
Remove hanger
cut a small piece of tinsel garland (approx 4-5′) twist and instert into ornament
place vinyl letter on the outside (again, you can purchase the vinyl letters, or cut with a Silhouette SD or other craft cutter)
replace hanger.
Again………super easy………..super fast…….VERY inexpensive.
I hope you have fun making some of these ornaments for gifts…….they're so quick and fun, you can even let the kids help make their own personalized ornaments to place on the tree! The possibilities with these clear glass balls are just endless!!
GO craft………..Have FUN!! ………….Don't forget the Christmas music and hot chocolate!
You May Also Enjoy:
Glass ball ornament wreath tutorial
I'm linking up with these parties.......please visit them!
Made by You Monday,  Get Your Craft on , Weekend Wrap Up Party, Pity Party


You May Also Like...