Home and Garden
Solving a Garden Trouble Spot {Guest Post}
My guest poster for today is a sweet friend of mine, Janet. Janet and I have never met, but we have connected thru our blogs and have so much in common….I really think we may be long lost sisters! Janet and I have become close over the last 5 month while her son, Brandon has been in Afghanistan………….Janet will have the BEST 4th of July this year, as you are reading this, Janet is packing, because this weekend, on the Fourth of July in fact, their Ranger will step onto a plane in Afghanistan to end his deployment and come home!!
Those words made me cry!!! Please, after you read her a guest post here today, pop over to her blog and tell her how much you appreciate her son and her family as, we American's, celebrate our freedom this weekend!
Isn't this a picture to be proud of?

***************************************************************************
Hi there, TidyMom fans!
My name is Janet and I author the blog, From Captain's Daughter to Army Mom. I am relatively new to the Army Mom part, and Proud but Terrified pretty much sums me up. In fact, as I write to you today, our son is making his way back to the United States from his deployment in Afghanistan. Nevertheless, I'm thrilled to join you here at Cheryl's blog as today's guest blogger.
When Cheryl invited me to guest post for her, I was quite happy to accept. For over a year now she has inspired me, through her blog and friendship, to become more organized in almost every aspect of my home and office life! And have you checked out her recipes and photography? I find both equally delicious!
Since we are in the throws of Summer and spend every waking moment outside in our gardens, I thought I would share a little gardening how-to with you. Not because I'm this terrific gardener, oh no! I most certainly am not!
About all I know about proper gardening is how to enjoy it. Fortunately, I am married to a Brilliant hobby-gardener. He plans, he executes, and Everything he plants thrives, and in most cases, multiplies!
I titled this post Solving a Garden trouble spot because it's exactly what he did… In a Big way! The addition of a koi pond and shade garden in a spot in our back yard that almost never gets any spring or summer sunshine, and is almost always damp, was the perfect solution for a space that was otherwise unusable. Having said that, my husband insists I tell you that there are, No garden trouble spots… Only plants put where they don't belong.
This slight disagreement between us aside… I would like you share with you what I believe was a trouble spot in our garden solved in a most delightful and entertaining way.
In this area of our rear garden behind the house, there are no less than eight huge trees. Their spring, summer and fall Canopies makes this a decent place to hang out to escape summer heat; however, the shade created by the trees makes it next to Impossible to cultivate a lush, green lawn. So what to do? He suggested a pond. I said no pond!


I just couldn't see it…


But he could. And so, the pond and shade garden that would frame it began


It was quite the project… And, I had absolutely nothing to do with it. Except to come home every day and marvel at the progress!


Pretty soon, his vision came to life and I began to see exactly what he was so excited about


With the addition of a deck, this area became More than just a koi pond and shade garden. It became another outside room. A place to hang out and relax apart from the pool, fire-pit area and deck off the house


It was at this point I began to see the error of my ways. And,when we went shopping for our first bunch of fish, I was all in!


The fact that the view from the house was improving helped too!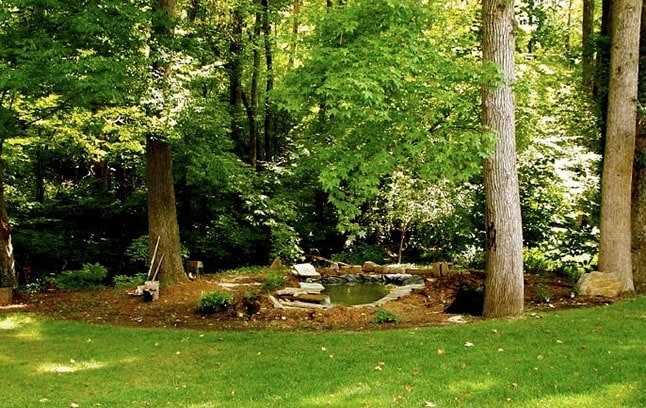 And, it's only gotten better over time!


With the addition of fish and water plants, our pond was complete


Speaking of plants! While a lawn is a No-no back here… Other plants, such as Ferns, hostas, creeping jenny and Japanese maples, love it!


An added bonus of having the pond is the wild life it attracts all year long


In summer, when the Hostas bloom, their sweet fragrance fills this area!


I didn't expect so many plants to bloom in this shady, moist garden. But the fact is, there is something blooming from early spring, right into late Fall. Here is one of my favorites – Toad Lily


It's the perfect compliment to the ferns and hostas that surround it


And speaking of Hostas!


Hostas fascinate me. They disappear completely from the garden following the first frost, and return faithfully each spring to produce these wondrous bouquets of green


Deer love Hostas too! The secret to having both is to offer the deer something else to munch besides your hostas!


We offer cracked corn. And plenty of it, since it's also what the ducks like! Of course, it's important to keep feeding after the hostas go to sleep too!


In winter, the pond shade garden disappears. However, the pond and trees continue to offer plenty of visual interest and appeal


Early spring, as things awaken and in summer, when things are at their peak, are my favorite times of year at the pond


But honestly, there isn't a bad time to be at the pond. Even in a heavy down-pour, the trees high above act as a natural umbrella so that we can continue to enjoy time by the pond


I especially enjoy the little visitors!


They come. They eat. They swim, and they nap. Right at our feet!


If you have a shady, moist area in your garden, ferns and Hostas are for you!


And of course, a pond too. If you're so inclined…


I assure you… You'll never regret the initial effort


Aside from feeding the fish and cleaning the pond filter, this garden takes care of itself


No weeding. No trimming. All enjoying!


Which is exactly what I like in a garden!


I hope you've enjoyed this tour of our koi pond and shade garden. I've certainly enjoyed having you along!
LIKE THIS POST?  PIN IT TO REMEMBER IT:
You May Also Like...