Recipes
Slow Cooker Taco Soup
Chilly days call for big pots of soup!
We have been cooking up a lot of soup in our house the past few months!!
One of our favorites, Taco Soup, is a hearty combination of beans, corn, tomatoes, and taco seasonings, slow cooked with ground beef ! And the best part……the slow cooker does all the work, so you don't have to!!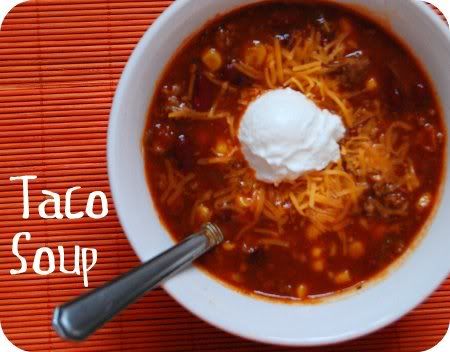 Ingredients
1 pound ground beef
1 (16 oz) can Bush's chili beans
1 (15 oz) can Bush's kidney beans, drained
1 (15oz) can corn, drained
1 (15 oz) can tomato sauce
2 c. water
1 (14.5 oz) Rotel diced tomatoes
1 (4oz) can diced chopped green chilies
1 pkg taco season mix
1 pkg ranch dressing mix
Instructions
Brown ground beef and drain
Add Taco seasoning and ranch dressing mix
Stir and cook for 1 min.
place seasoned meat in crock pot
add remaining ingredients
Mix to blend and cook low for 8-10 hours
Notes
Serve with tortilla chips, a dollop of sour cream and shredded cheddar cheese.
http://tidymom.net/2010/slow-cooker-taco-soup/
Copyright© 2009-2013 TidyMom.Net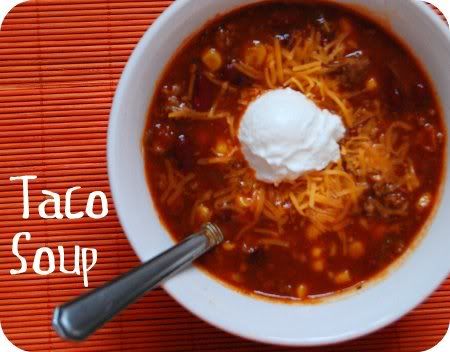 I'm sharing this recipe at Tempt Your Tummy Tuesday, Balancing Beauty and Bedlam Mouth Watering Mondays and Tuesdays at the Table, Crockpot Wednesdays and Ultimate Recipe Swap Foodie Friday and Simple Plate recipe exchanges, and Kimba's DIY Day
You May Also Like...