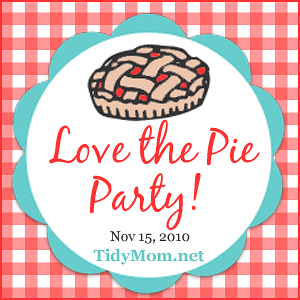 Today we are celebrating PIE!
"Love the Pie"
Time for everyone to link up your favorite PIE recipe!
What's a PARTY with out prizes?
We have some GREAT sponsors who have been SO generous to provide some incredible goodies for the Party!!
***This giveaway is now closed.  Thanks for your participation!  And congrats to all of the winners!  You can find a list of winners in this post.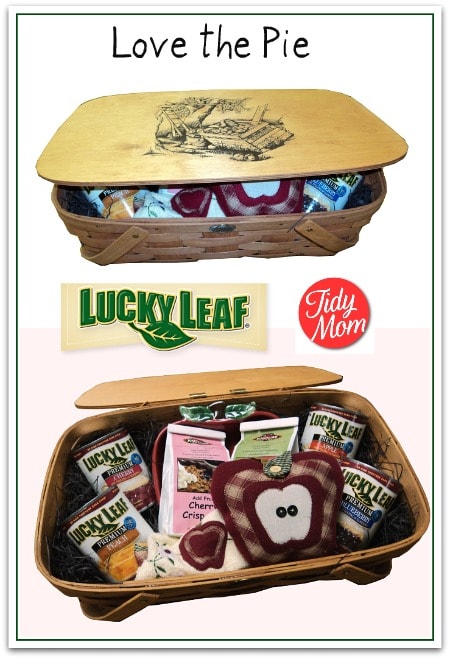 Lucky Leaf Pie Basket
(value $58) 1 winner
LuckyLeaf
1 can of Lucky Leaf Premium Apple Pie Filling
1 can of Lucky Leaf Premium Cherry Pie Filling
1 can of Lucky Leaf Premium Blueberry Pie Filling
1 can of Lucky Leaf Premium Peach Pie Filling
1 Apple Crisp Mix
1 Cherry Crisp Mix
1 Ceramic Apple Baking Dish
1 Apple Dish Towel
1 honey colored picnic basket, with a Knouse Foods sketch etched on top
tidymom
tidymom
-Wilton Pastry Mat
-Wilton Pastry Wheel
-Wilton Cake and Pie Server
-Wilton Baker's Pastry Blender
-Wilton Pie Pan with Fluted Edges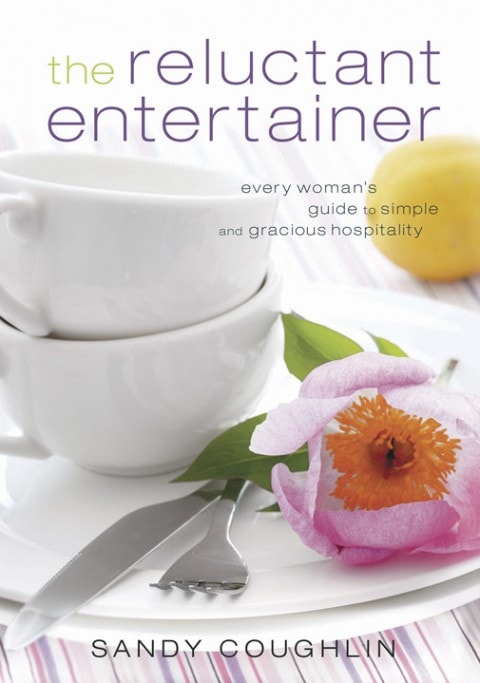 The Reluctant Entertainer : Every Woman's Guide to Simple and Gracious Hospitality
(retail $17.99)
3 winners
In Sandy's NEW inspirational book, The Reluctant Entertainer, she relates to many apprehensive hostesses in real ways with genuine encouragement and advice. Emphasizing the forgotten goal of entertaining – connecting deeply with others – she shows how women can use who they are and what they have to create memorable experiences.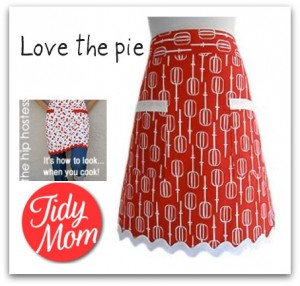 The Hip Hostess Meri Mixers Apron
(retail $32) 1 winner
Bring the Joy of Cooking in to your everyday routine with a red-hot mix of fun and fashion!
tidymom
tidymom
tidymom

Pillsbury Pie Crust
(value up to $3.70) 5 winners
5 winners will each receive 2 coupons for FREE packages of Pillsbury Pie Crusts and a Love the Pie t-shirt.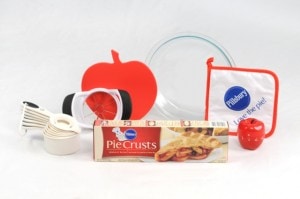 You can also click over to this post to win a bunch of Pillsbury Pie booty!
tidymom
tidymom
tidymom
tidymom
WHEW! Can you BELIEVE all of that!!
Thanks to Dawn, of Dawn by Design, for the button you can place in your post if you want!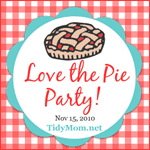 How to enter: **** giveaway has ended
Required:
-Link up your recipe to the party (be sure to link back) and leave a comment letting me know you linked up. *NOTE- you post MUST link back to this party (either a link or the button) or you will not be qualified to win.
-Don't have a blog? no worries….. leave your recipe in the comments.
Extra entries:
Let me know if you follow any of the sponsors on twitter or Facebook and give them a shout out telling them TidyMom sent you. (leave a comment letting me know)
Lucky Leaf on Twitter, Lucky Leaf on FB
Wilton on Twitter, Wilton on FB
Reluctant Entertainer on Twitter, Reluctant Entertainer on FB
TheHipHostess on Twitter, The Hip Hostess on FB
Pillsbury on Twitter, Pillsbury on FB
Post about this party/giveaway on your facebook page (leave me a comment on this post letting me know)
Ok, ready to link up?  I'll keep the linky open through friday November 19th. I will feature some of the entries on Monday Nov 22 and announce the winners. All winners with a valid entry will be selected at random using random.org. I will email the winners and they will have 48 hours to claim their prize. Thanks for participating! Happy Baking!!
Thanks again to all of the sponsors who have generously help support this event!