DIY/Crafts
How to: Felt {Valentine}Rosette Flower Pin
After seeing some of the wonderful felt heart wreaths around in blog world, like Amy's and Robin's………I started thinking, maybe I could make a pin, using the same concept.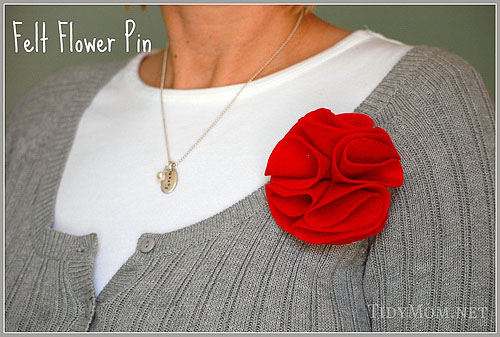 I started with a 9×12 piece of red felt that I bought at Michaels. Grabbed a glass that was about 3″ in diameter, and traced 6 circles on my piece of felt, then cut them out.
Next you can follow the steps in my picture. 
(you also click the picture and choose to view in a larger size for detail)
Take one circle, fold it in half,
then in half again.
Hand stitch thru the bottom point enough to keep it folded.
Then do the same with each of the circles. I just went from one to the next pulling my thread tightly to keep them all together(I just placed them randomly around each other, not in a stack…it will make sense when you're making it, you basically want the tips sewn together). When I had all 6 pieces attached I put a few more stitches in to keep them nice and tight together.
Next sew them onto a little pin backing (you can these at Michaels in the jewelry making section).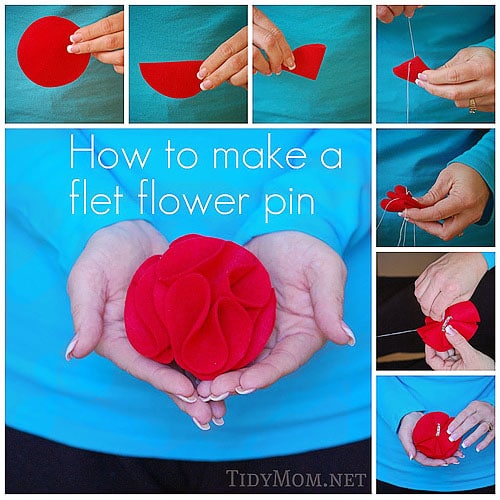 These were so easy and I love how they turned out! The red makes them perfect for Valentine's Day!
You can wear them on a sweater or jacket, t-shirt, on a bag……or give as a gift!
You could even use them as embellishments on scarves, hats, or pillows – oh, you get the picture!……just sew them right on instead of pining them on!
***********************************
My talented friend Amy of Living Locurto is featuring another meal plan by me this week!!
Click here to see my meal plan for this week,
she makes it SO easy by putting my meal plan in a pdf file…..she even has a shopping list made up for each meal!
I'm linking this project post up at the following blog parties:
Metamorphosis Monday, Make it for Monday, Make it Mondays, Making the World Cuter, Just Something I whipped Up, Motivate Me Monday, Make Your Monday, Thrifty Decor Chick, Hoosier Homemade Valentine Party, It's so very Creative, DIY Day, Today's Creative Blog, Talented Tuesday, Tut Yourself Tuesday

You May Also Like...