Tidy Mom
Holiday Connections…. Sandy Coughlin {Reluctant Entertainer}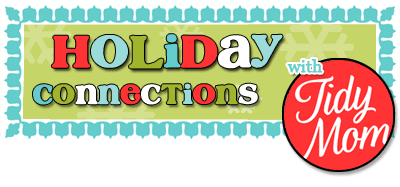 I thought I'd do something a little fun for the holidays!! I've been lucky enough to get to know some FABULOUS bloggers this past year. Some I've been lucky enough to spend time with in person, other's I've gotten to know online. They all feel like long lost sisters!
I thought it would be fun to interview some of them and get inside their heads for the holidays!! So each week thru the holidays I hope you all will help me welcome each of them as we connect for the holidays………
Sandy Coughlin
Reluctant Entertainer
Reluctant Entertainer.com
Sandy is the beautiful mastermind and now published author behind the popular blog Reluctant Entertainer.  I had the pleasure of meeting and getting to know Sandy in Napa with Bush's Beans. She's every bit as sweet and hospitable in person as she is on her blog and in her gorgeous book!
TidyMom: With 3 teenagers in the house, how is Christmas different than it was when they were little? or is has it stayed the same?
Sandy: It's not better or worse. It's just different. The "magic" isn't quite there and there is a more seriousness to the real meaning of Christmas. Kids love to receive gifts, but as they turn into teens it's beautiful to see their hearts soften and their minds focus more on giving.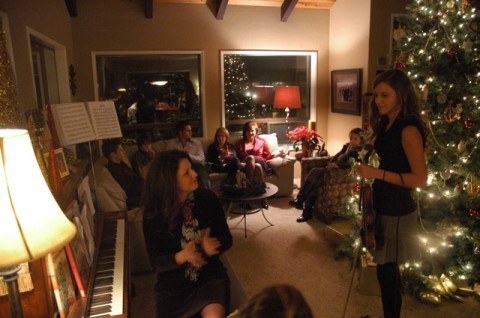 TidyMom:When does your family put up your Christmas tree?
Sandy: With teens in the home, working and coming and going with soccer, its hard to gather everyone together so my daughter and I usually put it up. Whoever is home usually pitches in and helps with the ornaments. It's not a ritual, it's just fun for whoever is around and of course Christmas music is playing! (We have a fake tree – gasp!)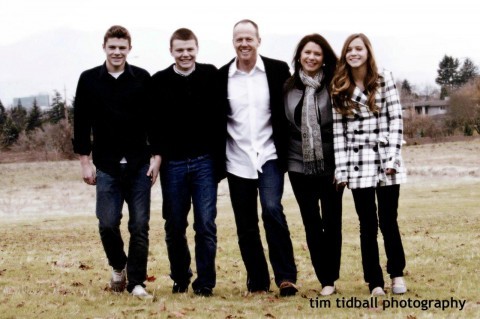 TidyMom: What do your kids want for Christmas?
Sandy: No idea. At this age, we don't hear much about the "wants."
TidyMom: Do you wrap Santa gifts?
Sandy: No.
TidyMom: What is your favorite part about the holidays? or favorite Holiday tradition?
Sandy: I love the early feelings of Christmas. The feelings of excitement, hope, anticipation. Coming home to a beautiful lit tree, Christmas music playing (we play Pandora a lot in our home!), planning a few dinner parties. I love the connection and intimacy at Christmas with our annual Progressive Dinner where one course is held in our home. Really, it's a month of beautiful celebration of Christ's birth.



TidyMom: Do you send out Christmas cards? and if so, do you make them or send something special?
Sandy: Oh, yes, and our annual Christmas letter that my husband writes every year. It's not your average "our kids are doing this and that," kind of letter. It's funny and meaningful and if we focus on ourselves, it's done in a light and humerous way.
TidyMom: Do you have any special food memories from Christmases past?
Sandy: My mother knew how to put on a spread for Christmas. We always had a buffet on Christmas Eve and then a big sit-down dinner on Christmas Day. In our home now we don't have any certain traditions – we change it up every year and do something different.
TidyMom: Do you leave out cookies for Santa?
Sandy: No.
TidyMom: What color scheme or "style" do you use to decorate for the Holidays?
Sandy: I don't believe in spending unnecessary money at Christmastime. I have a beautiful collection of tall trees that I may add one to each year. I accent the home with greenery, gold and silver and a touch of red. It's very simple. I've tried to simplify over the years so I don't drive myself or my family crazy. Last year as I put up the decorations for Christmas, I also filled the back of our car with things to get rid of as I went through the boxes. I'd like to simplify even more this year if possible. I want to focus on my family, friends, and the true meaning – and not stuff!
TidyMom: Do you have a guilty pleasure?
Sandy: Oh, so many during the holiday season but I can never say no to Pecan Pie or Snowball Cookies. And my favorite treat is delicious chocolate-dipped bacon! A delightful treat, indeed!
Thanks so much for sharing your Holidays with us Sandy!!
It's hard to believe that Thanksgiving is just next week!
I want to thank Julie of Lee Lou Blogs for making the cute Holiday Connections button for me, with design elements from Cathe Holden of Home Grown Logos.

You May Also Like...