DIY/Crafts
{Cheap} Wall Art
Cheap wall art, with an old frame, burlap and a paper mache letter and a little paint.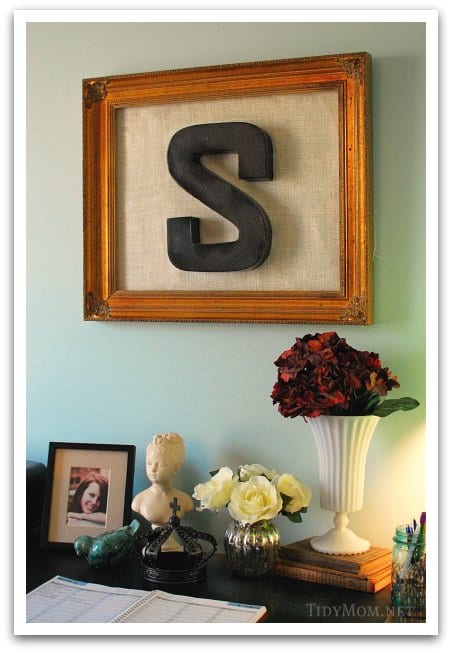 I'm still working on the walls in my office.
Several months ago I bought a few paper mache 12″ letters at Joann Fabrics for $3.99
I wasn't sure what I wanted to do with them, until the other day.
I spray painted my letter "S" black.
Found this great wood frame at the resale shop for $8.
I stapled some burlap to the back of the frame
hung the frame on the wall over my husband's desk.
I then stuck a nail in the wall right thru the burlap
and hung the letter "S" in the middle!
Perfect for now!!
My husbands first name and our last name both start with the letter "S"
I originally bought the frame with the intention of using it as a prop for photo shoots,
but for now I like it hanging here!
I think I even like the frame left gold……..but I may swipe a little white over it some time.
What do you think? Gold? or White?
**********
I'd love for you to become a fan!
Share recipes, projects and more!!

You May Also Like...